Adventures in America's Family Tours are the best way for a family to see America. This adventure provides something fun for everyone. You and your family will see the highlights of the West Coast and the American Southwest. You will spend a night in the back country of Monument Valley while sleeping under the stars in this otherworldly valley. You will have a chance to go down the Colorado River, visit the hoodoos of Goblin Valley, and eat homemade organic pie in the town of Fruita. There is so much more in this adventure that you will be talking about for years. A true bonding experience for you and your family.
Day 1: Arrival day
Tonight we meet in the lobby of our hotel at 5 pm or TBD for a tour overview and welcome Pizza Party. Later you will have time to enjoy the City by the Bay. 
        Accommodation: Hotel 
Day 2: San Francisco
Our adventure begins at 8 am in the Hotel  for a city orientation. Today you'll explore Chinatown, with its 18th-century churches and Chinese temples, and take the grueling climb up Lombard Street; the steepest street in town. From Fisherman's Wharf, the old harbor of San Francisco, you have a beautiful view of the Golden Gate bridge. This gives you a good idea of the city and in the afternoon you have time to discover more by yourself. 
              Accommodation: Hotel
Day 3
:
San Francisco 
Today is your day to explore the city by the bay on your own. There will be plenty of things to see. Your tour leader will assist in helping plan your day if needed. You can visit the famous prison island of Alcatraz and in the evening take a catamaran cruise across San Francisco Bay to the Golden Gate Bridge. Do you want to experience American sports culture? Then it is recommended to experience a Giants baseball game. Or go to  one of the hidden gems of The city, Japan town.
            Accommodation: Hotel
Day 4: Yosemite National Park/ Groveland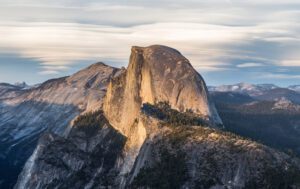 We get an early start for Yosemite. Today we will travel to the base of Yosemite park. When you arrive at the campgrounds, you will  receive an extensive overview of camping life on tour. Then you can set up your tent yourself between the trees. We camp here for two nights. Tonight your leader will help you go over all your options for tomorrow in Yosemite. This evening we all will  enjoy an American-style BBQ. (Every day we  take turns rolling up our sleeves and every now and then you will have to set the table, cook and wash the dishes.)
Accommodation: Camping 

Meals: B, D – American BBQ 
Day 5: Yosemite National Park
It's an early start today and we will spend the whole day in Yosemite. There are many amazing hiking trails and swimming spots along the Merced River, or bikes for rent with over 15 miles of paved trails to ride. We will get a chance to see Half Dome, El Captain.  You will have a chance to go for a short hike.
Accommodation: Camping

Meals: B, L, D
Day 6: Bishop/Mono Lake 
Early start today as we spend most of our time in Yosemite upper Valley. We will visit a redwood grove for a short hike to visit these amazing trees. Then on to Tenaya lake,  you can take a short walk or go for a swim. Then we will  drive over tioga pass, with a bit of luck you will see snow on the peaks on the way. Have a short stop at a viewpoint over Mono Lake. This is one of the oldest lakes in all of North America. Then on to the small mountain of Bishop  
Accommodation: Camping

Meals: B, L, D
Day 7: Death Valley National Park /Las Vegas
 We will get up early again today and make our way towards Death Valley National Park and the Mojave Desert. We will spend  the day exploring Death Valley, including the Sand Dunes, salt flats, and Zabriskie Point. Then on to Bad Water Basin  the point of lowest elevation in North America, at 282 feet below. After Death Valley. We head to Las Vegas with enough time to freshen up before our night out on the town.
Accommodation: Hotel

Meals: B, L
Day 8: Las Vegas 
Today is your free day to explore the gambling capital of the world  Las Vegas. Vegas has live  shows, shopping malls, the Mobster Museum, Neon Light Museum, art galleries, and numerous night clubs for your entertainment. Take a gondola ride at the Venetian today. If you think about it you can find it in Las Vegas! At night, also known as 'the strip'. At  several of the  hotels there are free shows such as the fountain show in front of the Bellagio and the volcanic eruption in front of the Mirage hotel. If last night's schedule made you feel somewhat tired, then take a day off and relax by the pool.
Accommodation: Hotel

Meals: None 
Day 9: Dude Ranch / Zion National Park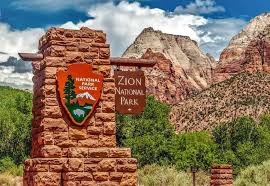 It's time to travel through Utah and the start of the Colorado Plateau on our way to Zion NP. Stopping off in Zion Np for the afternoon for some hiking and sightseeing. You can use the convenient shuttle service in Zion National Park. This bus goes up and down the park and you can get on and off wherever you want. Then we will  drive along the Virgin River and through a beautiful area of red rocks. On the way to a Dude  ranch where we will spend the next couple of days.
Accommodation: Camping

Meals: L,D
Day 10: Dude Ranch
Today is your free day to just relax, go for a swim, or you can join in on some great outdoor activities like Zip-line, paintball, climbing wall and much more. Your leader will go over all options at the beginning of the tour. But the day is yours!
Accommodation: Camping

Meals: B, L, D
Day 11: Dude ranch / Bryce Canyon National Park
Today we will explore Bryce Canyon. This area is famous for its unique geological rock formations. The sun creates beautiful shades of the colors of the rocks. The colors range from pink to orange. You can take a beautiful walk here between the sandstone formations and there are various viewpoints. Some of your options are Navajo or Peek-a-Boo Loop hikes, go for a horse ride, or just remain on the rim and take photos or take a horseback ride in Bryce Canyon.  
Accommodations: Camping

Meals: B,L,D
Day 12: Moab, UT
We hit the open road to Moab (this will be a long day).  Along the way to Moab will visit Escalante, the Capitol Reef and Goblin Valley. Moab which is considered to be America's ultimate adventure playground with mountain biking, rafting, hummer tours, canyon hiking and so much more. Arches and Canyonlands National Parks are nearby and offer many hiking opportunities. Tonight we will watch the sunset in Arches Np. 
Accommodation: Cabins 

Meals: B, D 
Day 13: Moab, UT
Today is a free day for you to take advantage of all that Moab has to offer. For those adventure seekers, you can rent a mountain bike and explore the extensive network of trails including Slick Rock Trail (for the more advanced riders) or take an off-road Hummer tour. You could also choose to go on a float trip down the mighty Colorado River, or just relax and explore the town. Your leader will help you organize your day. In the evening we will meet to have a drink in Moab's famous brewery. 
Accommodation: Cabins

Meals: B, L
Day 14: Monument Valley
Today's adventure is packed full of fun things. During the first part of the morning, enjoy a hike in Arches or Canyonlands  or relax. Then it's on to Monument Valley Tribal Park, part of the largest Native American Reservation in the USA, which is located on the Arizona & Utah border. Prepare yourself for an experience of a lifetime. We will be given a back country jeep tour of their reservation where you will learn about these deeply spiritual people. Tonight we will eat, dance and sleep under the stars in Monument Valley.
Accommodation: Camping

Meals: B, L, D
Day 15
:
Grand Canyon National Park
We will be waking up in the backcountry  of Monument valley watching the sunrise. After a light breakfast we are off to the Grand Canyon. Where we will spend the next two nights near the Grand Canyon.! Today we will be doing a driving tour of the Grand Canyon. This will be a great orientation for your free day tomorrow. Your leader will go over your options tonight. 
Accommodation: Camping

Meals: B, L, D
Day 16: Grand Canyon National Park
Today is yours to explore the Grand  Canyon.  It's time for some grand action and you can choose from various trails to or fly over the canyon. Here you can walk the Bright Angel Trail and the South Kaibab Trail or choose from a helicopter or plane ride. Tonight we will go to a special place to watch the sunset. 
Accommodation: Camping

Meals: B, L, D
Day 17: Route 66 Tour Experience
 We start our journey on Route 66, "The Mother Road".  First stop Seligman where you can see the rebirth of Route 66. Then we will continue on America's Main Street to Kingman, where you have the option to check out the Powerhouse — aka The Route 66 Museum. Where you can learn about the history of Route 66.  We will actually drive on route 66 and sleep along the Colorado river tonight. Tonight we enjoyed our last night of camping. 
Accommodation: Camping

Meals: B, L, D
Day 18: Los Angeles  
Next two days we will be staying in a Hotel in the Los Angeles area. Today we will get an early start so we can get the most of the last days of the tour. You will get an orientation tour which includes the Hollywood Walk of Fame, Rodeo Drive and Griffith park  just to name a few. You have the option tonight to go as a group to the world-famous Mel's Diner for dinner. 
Accommodation: Hotel  

Meals: B
Day 19: Los Angeles
Today is your day to explore the movie-star-filled boulevards and beaches of LA. The city presents you with the taste of the Pacific Coast with its boldness and beauty! You also have an optional  trip to Universal Studios or Venice Beach. Your tour leader will help you plan this day. 
Accommodation: Hotel

Meals: B
  Day 20: Los Angeles
 It's over and the time has probably flown by! Depending on the flight schedule, you still have time to wander around LA. Then you board the plane home and say goodbye to this great adventure.  Your leader will help with your airport transfers.     
Please note: After you make your booking a more detailed Itinerary will be sent out. This will have on it the accommodations, list of all optional activities and other info on what to expect on tour.  
Some Useful Info 
Our family adventures are specially put together for parents and children. Adventures in America has made a tour that balances out the highlights and activities to give something for the young and young-at-heart. We are also committed to making everyone feel welcome on tour. We have planned a diverse itinerary with a wide array of activities. There will be a couple of long days of driving that we will try to break up with scenic stops and fun things along the way. We also have made it so we will be at certain areas more than one night. That way, you don't feel like you are rushing through the USA.
AIA Tours understands paying for a family of 4, or 5 is quite expensive, so we have made it so you don't have to be nickel-ed and dimed while riding across the country. We don't have any hidden fees. This tour mixes activities that you might like to do, and some you might not be interested in. We suggest before you come on the tour, to go over the options and pick what you want to do, and book that activity. You would like AIA Tours to help make those arrangements via this link. 
Included in the tour:
English speaking driver/tour guide
Transport by minivans
Overnight stays in attractive hotels and cabins
Overnight stays at cozy campsites
Use camping equipment, excluding sleeping bag and pillow
Including 14x breakfast, 11x lunch and 12x dinner
National Parks Entrance Fees
San Francisco City Walk
Yosemite National Park Hike
Visit to Mono Lake
Stop at the Badwater Basin in Death Valley
Hike through Zion National Park
Hike in Bryce Canyon National Park
Excursion to Arches National Park
Visit to Monument Valley with a overnight jeep tour 
Hike through the Grand Canyon
City Tour of Los Angeles
 Stay  by the beach  in Los Angeles area 
Accommodations and Meals
San Francisco, Las Vegas, Route 66 area and Los Angeles we sleep a total of 7 nights in attractive centrally located hotels. The rooms have their own shower and toilet. Some hotels have a swimming pool.Triple rooms  in the USA contain 2 queen beds as standard.  In Los Angeles we stay close to the beach. In addition, we will spend 2 nights in a cabin.  
The remaining 9 nights we go camping. We stay at beautifully situated camping areas. The nice thing about this trip is that you fall asleep in your tent under the starry sky and wake up the next morning to the chirping of birds. So in the middle of nature! The campsites have limited facilities, but do have the basic necessities such as a shower and toilet. During the camping nights you will sleep in a tent that you have to set up yourself. The tour guide will of course be happy to help you set up the dome tents. The tents are equipped with mosquito netting. Mattresses are available, so you only need to bring a sleeping bag and a pillow. 
During this trip through the United States, the following excursions are included in the itinerary:
In San Francisco we will take a city walk, so that you can already see a number of highlights of the city.
We take a walk through the beautiful Yosemite National Park. The giant sequoia grows in this park, a gigantic tree with a circumference of up to thirty meters, which can live up to 3000 years.
We will visit Mono Lake Tufa Towers 
On our way from Bishop to Las Vegas, we stop in Death Valley at the lowest point in North America, the Badwater Basin, the Sand Dunes 
In Utah we visit the beautiful Zion Park. In this national park we will take a walk where you will feast your eyes on the breathtaking nature.
In Bryce Canyon, jagged rock peaks have been carved into a horseshoe-shaped bowl. The walls consist of at least 60 layers of sand, lime, and slate. From above it looks like you are looking into an immense amphitheater.
From Moab we visit Arches National Park, known for its more than 2000 natural arches. Watch the sunset at a special place in Arches.
Monument Valley is arguably one of the most photographed areas in the United States. Several western films and documentaries about the Wild West have already been filmed in this backdrop of red rock formations and the surrounding desert. You do an overnight jeep tour in the back of the valley.
The Grand Canyon is the largest and most imposing canyon in the world. We take a walk through the impressive gorge.
In Los Angeles we make a city tour where we see most of the highlights of the city.
In addition, you can visit other sights on your own or participate in optional excursions:
In San Francisco you can visit the world famous prison island of Alcatraz. Well-known criminals, such as Al Capone, have been imprisoned on this island.
San Francisco Bike Tour
In Las Vegas, visit one of the many spectacular shows or entertainers.
A spectacular way to admire the Grand Canyon is by helicopter.
In Los Angeles you can visit Universal Studios. Art lovers can visit the free Getty Museum.
From Los Angeles you can take a day trip to Disneyland in Anaheim.
Optional Activities on Tour:
At AIA Tours  optional activities you decide which sights you think are worth visiting. One would like to ride the funicular in San Francisco, the other would like to see a show in Las Vegas or visit Disneyland. In most cases you can go out by yourself or with group members, with or without the help of our tour guide, on foot or with local transport. Entrance fees are therefore not included in the tour price, so you have all the freedom to draw your own plan.
Some sites are not to be missed, are difficult to reach or are 'en route' to our next overnight stay. Such excursions are included in the program at AIA Tours With an No refund entrance, such as to a national park in which you are staying or that you are visiting, the entrance fee is included. In other cases, this entrance fee is exclusive.
Please make sure you look over the frequently asked questions, General info and all of our Booking terms and  policies via all their pages . 
If you have any questions whatsoever Please email us at infoteamaia@gmail.com
We also will do a zoom call or whatsapp video call to walk through the tour. To answer any  questions or concerns.